Quarantine
The Key to the Control of Infectious Disease
By the 1890s doctors understood enough about the spread of infectious disease to apply their understanding to hospital design.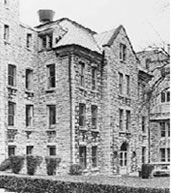 The K.G.H. Nickle Wing was named for William Nickle who provided $10,000 for its construction. Its second floor was designed to contain highly infectious diseases. As an isolation floor, it was not directly connected to the rest of the hospital, and had its own separate entrance.
Special features were included to reduce contagion between rooms on the isolation floor. Each room had separate ductwork for heating and ventilation, as well as rounded corners for more efficient cleaning.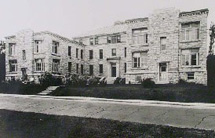 The isolation hospital, built for the treatment of infectious diseases, was erected in 1923 with assistance from the City of Kingston. It became obsolete with the trend toward the incorporation of isolation facilities into other nursing units in the hospital.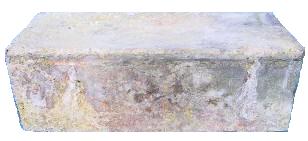 Time capsule (1923) retrieved from the Bawden building (formerly the Isolation Hospital) upon its demolition.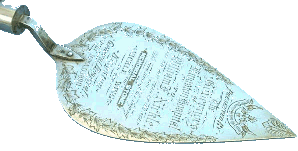 Presentation trowel given to Mr. William H. Nickle by the Governors of the Kingston Hospital on the occasion of his laying the memorial stone of the Nickle Wing - July 16, 1890.