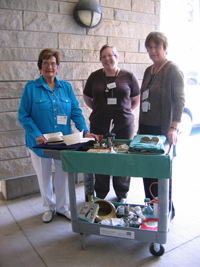 Health Care before Disposables: Museum's Nursing Week Trolley at KGH
The Museum of Health Care was happy to participate in this year's Kingston General Hospital Nursing Week activities with a mobile exhibit of nursing artefacts.
On Tuesday May 10, 2011, Museum volunteers Clare Rayner and Ann Gay wheeled the trolley from nurses' station to nurses' station, presenting the mini exhibit and answering questions. Clare and Ann, who are also retired KGH nurses and retired professors of Nursing at St. Lawrence College and Queen's University respectively, had a great time interacting with KGH patients and staff. They remarked that it was difficult to roll away from all the engaging discussions.
The Nursing Week Trolley was outfitted with old nursing caps, medical instruments, and patient care artefacts. Highlights included a gold glass ether bottle, a wooden mono fetal scope, and a full box of "Hospital Applicators," which allowed nurses to make their own swabs.
While discussing the changes to the nursing profession over the past few decades, Ann Gay said she was struck by "the vast amount of time we spent assembling and packaging our treatment trays, sterilizing equipment, and cleaning everything from beds to bedpans." This type of activity has since been reduced, and nurses now work collaboratively with patient care support workers.
Ann reported that several KGH staff members were impressed by the economic and environmental value of the old nursing instruments and supplies: a noticeable contrast to the large quantity of disposables used today. "While no-one wants to go back to mercury thermometers or enema cans, it was interesting to hear the argument for the environment."
The Museum also celebrated Nursing Week on May11th with the free public lecture entitled "The Purpose-Built Nurses' Residence: Creating Space for Women in Early 20th Century Health Care in Canada." This presentation by Parks Canada's Dianne Dodd and James De Jonge offered a fascinating look at the professionalization and identity of early Canadian nurses. To watch the lecture online and learn about the Museum's permanent nursing exhibit, visit www.museumofhealthcare.ca/nursing.
Photo by Kathy Karkut. Right to left: Clare Rayner, Leanne Wakelin (organizer of KGH's Nursing Week activities) and Ann Gay.