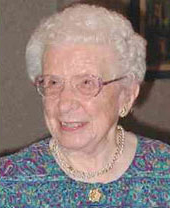 Introduction
Each year the Margaret Angus Research Fellow is selected by the Museum from a pool of qualified applicants. The appointed Fellow spends the duration of the four-month program researching and preparing a manuscript reflecting the history of health and health care as expressed by components of the Museum's collection. Each year, usually in autumn, the paper is presented by the Fellow to an audience at the Museum, to the delight of the public and professionals alike. Please join us on Thursday, September 21st for this year's presentation.
Dr. Margaret Angus
The Museum of Health Care is priviledged to have our Research Fellowship named after Dr. Margaret Angus. Dr. Angus' historical publications and contributions to the heritage community have been recognized throughout Canada. Dr. Angus died on February 15, 2008, a few months shy of her 100th birthday.
If you care to make a donation to our fellowship in honour of Dr. Angus, please contact the Museum or donate online.
Applications
Applications for the 2018 Margaret Angus Research Fellowship will be accepted once the call is issued at the beginning of the year. To receive a notification, please subscribe to the Museum's Bailliebytes E-Newsletter.
View topics of current interest to the museum.
Research Projects
The manuscripts produced are available as research resources in the Museum. Below are the former research fellows, their projects, and resources available online.