Heart Lung Exhibit
Open heart surgery comes to Kingston in the 1960s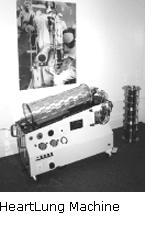 On November 2nd 1999, the Museum opened its exhibit, The Heart-Lung Machine - Key to Cardiac Surgery. More than 90 people were at Botterell Hall to hear research fellow Dan Sipes discuss the history of the heart-lung machine and its use in Kingston. Personal experiences and reflections by physicians Beverley Lynn and Jake Milliken were followed by an exhibit unveiling and reception at the Museum.

The focal artifacts in this exhibit, a Melrose N.E.P. (New Electronic Products) Heart Lung Machine and a perspex oxygenator, were used by Dr. Lynn to perform early cardiac surgeries at Kingston General Hospital in the 1960s. This equipment performed the function of the patient's heart and lungs - oxygenating and circulating the blood - which gave surgeons a clear and stationary field in which to operate on the heart. The stainless steel oxygenator, another early Kingston development in cardiac surgery, was devised by Fred Siemonsen in Portsmouth Village and is also on display. This oxygenator was more quickly and easily sterilized than the acrylic resin model, nearly doubling the number of surgeries that could be performed in a week. The exhibit briefly discusses the developments that led to the discovery of a heart-lung machine, also known as a cardiopulmonary bypass machine, and establishes the human significance of cardiac surgery with the story of the rapid growth of a child after surgery done to repair a congenital heart defect.
Thanks to Baxter Healthcare Corporation for the financial support that made this exhibit possible.