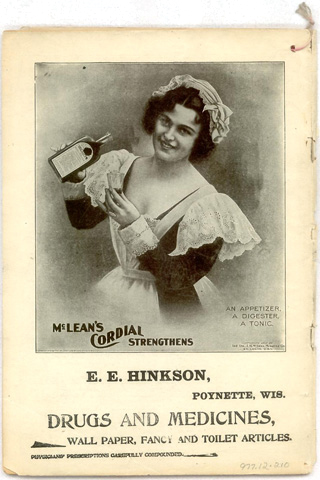 Remedies from 100 years ago: Classic Cures and Fashionable Fixes
By Heather Blyth (May 2000)
If you were living 100 years ago and were suffering from fever, cough or abdominal pain, you'd have several places to seek relief. Potions, Pills, Prescriptions: Remedies of 1900, our newest exhibit, shows which remedies would have been available to you, be they from a doctor, in the home or at the pharmacy.
A vignette of each option is featured, showing a selection of remedies and other healthcare items that might have been employed as potential cures for the specific ailments. Extra information on stanchions and "remedy cards" is also available at each vignette.
Another section of this exhibit presents the efforts of the magazine industry of the day, and a short history of the laws enacted to restrict the patent-medicine industry and make "remedies" safer for the consumer. A "sniff station" is available for those who would like to try their nose at identifying a selection of essential oils that would have been used in some medications.
When this exhibit was unveiled on May 2, 2000, more than 100 people were on hand in Botterell Hall to hear four guest speakers. Gerry Marks began with an explanation of the history of the medicinal applications of plant extracts, and a discussion of the drugs used by the famous Canadian doctor William Osler. Exploring the roles of the druggist and the physician in 1900 was Bill Racz, followed by Ivan Zarenda, who described the then-current situation of the drug industry. Lastly, Patricia Peppin told of the measures taken by governments to protect the public from unscrupulous individuals and companies that preyed on the sick and desperate.
Many thanks go to Parke-Davis for financial support, as well as the donation of a large collection of Parke-Davis herbs and medicines. We also extend thanks to Pfizer Canada Inc., Fresenius Medical Care Cdn. and Janssen-Ortho Inc. for financial support.