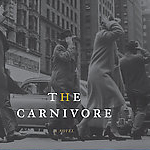 Museum help with research for a newly released Novel

Author Mark Sinnett has just launched his new book The Carnivore and has acknowledged the help he received from three individuals involved with the Museum of Health Care. Marilyn Boston who is on our Board of Directors, Barb MacNaughton who has been a long standing Museum member and of course Paul Robertson the Museum's Curator were all involved with research aspects for Mark's new book.

"I would like to thank retired nurses Marilyn Boston and Barb Mc-Naughton for sharing their stories with me, as well as Paul Robertson, the curator at the Museum of Health Care at Kingston."
Acknowledgements, The Carnivore, Mark Sinnett
Abstract from the Novel


"IN OCTOBER 1954, just as Ray and Mary Townes seem to be establishing a perfect marriage, Hurricane Hazel barrels through Toronto, killing 81 people. Ray, a young cop, is hailed as a hero by the newspapers, for saving several lives from a rampant Humber River, while Mary is a nurse who performs her own small miracles that night. But as the young couple try to resume their life together in a shell-shocked city, Mary begins to doubt her husband's story. Who is it, exactly, that stars out at her now from the cover of the Globe and Mail? Definitive answers prove elusive, and divisive. And 50 years later, when a reporter comes knocking, wanting to once more revisit and celebrate that violent night, a host of secrets finally surface that threaten to destroy them.

The Carnivore is Mart Sinnett's finest achievement, both suspenseful and moving. He brings a historical calamity to startling life, and exposes, with keen insight, the awful machinations of a troubled marriage."