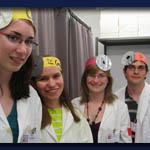 Thank You To Our 2009 Summer Staff
Summer has come and gone. Our Summer Staff have returned to their academic careers and the Museum would like to thank them for the wonderful work they have provided us over the Summer months.

I would like to say a huge thank you to the two outstanding students who worked in our Visitor Services department this summer: Tour Guide/Marketer Victoria Harrison and Museum Interpreter Cathy Neilson. We were fortunate to have them join our team, and the lasting impact of their contributions will be felt long after the summer ends.

Cathy and Victoria were incredibly busy this summer. In addition to greeting Museum visitors and delivering our wide variety of guided tours (including gallery tours, The Astonishing Past of Kingston General Hospital walking tours, KGH Hall of Honour Exhibit Tours, and our new family-friendly KGHistory for Kids: A Memory & Mapping Activity for Young Historians program), they also developed brand-new in-museum educational programs, scavenger hunts, and activity sheets for students of all ages. Thanks to Cathy and Victoria's hard work, we were able to offer programs associated with our When Medicine Met Science, Joint Ventures and For Service to Humanity: Nursing Education at KGH galleries to over 170 children who visited the Museum from local day camps. These new programs are an important addition to our in-museum offerings for large groups.

Cathy and Victoria also worked hard to raise awareness about the Museum of Health Care both locally and nationally. They contacted media outlets, distributed brochures, and interacted with Kingston residents and tourists outside of the Tourist Information Office. They also helped to expand the multimedia content of our newly revamped website by recording "Fun Fact" videos highlighting strange and exciting aspects of our collection, galleries, and tours.

It was truly a joy to work with Cathy and Victoria this summer. It would be impossible to list all of the many ways in which they made an impact at the Museum, but I would like to express my appreciation for their dedication, enthusiasm, creativity, and good humour.

- Catherine Toews, Museum Manager

Saying goodbye to our outstanding summer curatorial students, Grace Dungavell (Museum Studies, Masters Public History, University of Western Ontario) and Adrian Stephens (Nursing Student, St. Lawrence College, Kingston Campus) is one of the difficult tasks at the end of a very productive summer. These highlights of their curatorial projects indicate how busy they were this summer:

Grace used her museum studies knowledge and hands-on experience to: inventory and clean every artifact and object on exhibit (over 450 items); create new reference exhibit binders; add new accession numbers to over 700 archival prints (twice for record keeping!); clean and prepare for storage about 70 (with multiple parts) objects in storage; sort and store the Education Collection and provide storage room tours dressed in our 1900s nursing uniform. The results of her excellent work in the basement storeroom will become the showcase of correct museum methods to store assorted materials.

Adrian provided everyone with his modern nursing technology and experience to: inventory and photograph over 700 archival items in our 'mystery' boxes; scan over 175 colourful c. 1880-1910 'menu' covers; catalogue revisions for nearly 90 pharmaceutical advertising archival items; about 20 transcriptions of nursing oral histories; paint several items including the museum shop board and provide gallery tours and revisions for the interpreters guides.

When Grace and Adrian return to academia, they will have left a lasting 'footprint' at the Museum of Health Care. I wish to thank them for their dedication, thoroughness and for contributing to the goals of the curatorial department and the museum. I think they should have a round of applause and some rest before hitting the books!

Staff and volunteers Mary & Claire will miss them at Tuesday coffee. They join us in saying: "Thank you for your extra efforts and Good Luck on your school work!"

- Kathy Karkut, Collections Manager