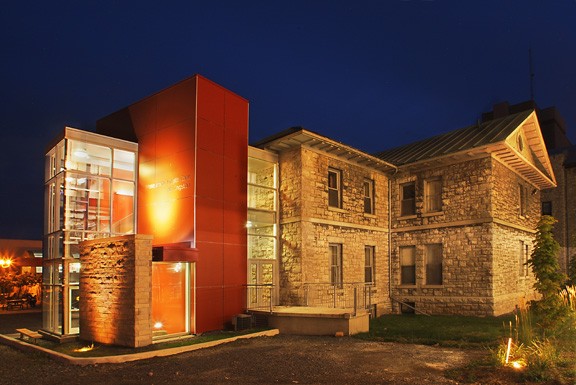 Host your next event surrounded by history at the Museum of Health Care.
The Museum of Health Care is housed in the Ann Baillie Building National Historic Site, conveniently located next to downtown Kingston near the waterfront, just steps away from City Park, Kingston General Hospital, and Queen's University. Perfectly-suited for meetings, receptions, workshops, lectures, parties, and other group functions, the Museum offers a unique setting and a special opportunity to enjoy our health care history exhibitions. All gallery spaces can be opened for your guests and private tours can be arranged free of charge. Discounted full-day rates are available.
Gallery Level
Capacity: 125 standing, 40 seated
Accessibility: wheelchair accessible
Daytime fee: $80/hour (Non-profit discount: $40/hour)
After hours & weekend fee: $105/hour (Non-profit discount: $65/hour)
Floor plan
The first floor of the Museum is home to eleven exhibitions, as well as a central lobby area, and this rental reserves the entire floor for your group. The Gallery Level is available to rent after hours, on most weekends and during some weekdays (with advance notice).
Click here to view the Museum of Health Care's Facilities Use Guidelines.
Contact us for availability and further information at (613) 548-2419 or [email protected].