TB Today: A Global Emergency
A Global Perspective
It is estimated that one third of the world's population has been infected with tuberculosis. In 2010, 8.8 million people were diagnosed with tuberculosis. Even though 95% of drug-susceptible TB cases can be cured with appropriate therapy, approximately 3,800 people die from TB each day - a total of 1.4 million people in 2010. The mortality rate of TB has declined since the 1990s, but it remains too high to tolerate. The health care infrastructure and drug supply mechanisms in place around the world are not meeting the needs of the sick.
While tuberculosis cases can be found in most every country of the world, it does not affect them equally. Twenty-two high burden countries carry 80% of the cases of TB. The list of high burden countries includes Brazil, India, Cambodia, Kenya, Russia, and South Africa, to name but a few (see image below). The high incidence rates in such countries might be linked to high population and high population densities, poverty rates, and/or a lack of health care infrastructure.
Estimated burden of TB by Selected Countries
North America
Incidence Rate
Canada
United States
Mexico
5
17
4
South America
Incidence Rate
Argentina
Chile
Costa Rica
Dominican Republic
Ecuador
Haiti
Peru
28
19
14
70
68
238
113
Middle East
Incidence Rate
Afghanistan
Iraq
Israel
Lebanon
189
64
5
15
| | |
| --- | --- |
| Australia | Incidence Rate |
| Australia | 6 |
Africa
Incidence Rate
Congo
Ethiopia
Kenya
Mozambique
Namibia
Nigeria
Sierra Leone
South Africa
Swaziland
Zimbabwe
382
266
314
539
693
136
645
971
1257
672
Europe
Incidence Rate
Bosnia & Herzegovina
Czech Republic
France
Germany
Greece
Hungary
Norway
Russian Federation
Switzerland
United Kingdom
50
8
10
5
5
15
6
106
7
13
Asia
Incidence Rate
Cambodia
China
India
Indonesia
Japan
Malaysia
Pakistan
Phillipines
Thailand
Vietnam
442
80
190
189
22
83
231
280
137
200
Source: *Incidence Rate derived from average rate over 2008, 2009 and 2010. Source: Public Health Agency of Canada
HIV/AIDS and TB
In countries with a high HIV prevalence, the number of TB cases has been on the rise over the past 15 years. According to the World Health Organization (WHO), at least one-third of the 34 million people with HIV are also infected with TB. HIV weakens the immune system and increases the likelihood of developing active tuberculosis. TB is the leading cause of death among those infected with HIV; in 2010, 350,000 people died of HIV-associated TB. Of particular risk are HIV infected health care workers in areas with a high burden of TB. Poor infection control capacity in many jurisdictions in the developing world mean that many of these cases are transmitted within hospitals and other health care facilities. To achieve success, diagnostic and treatment programs must consider this correlation and aim to treat both diseases simultaneously, rather than independently.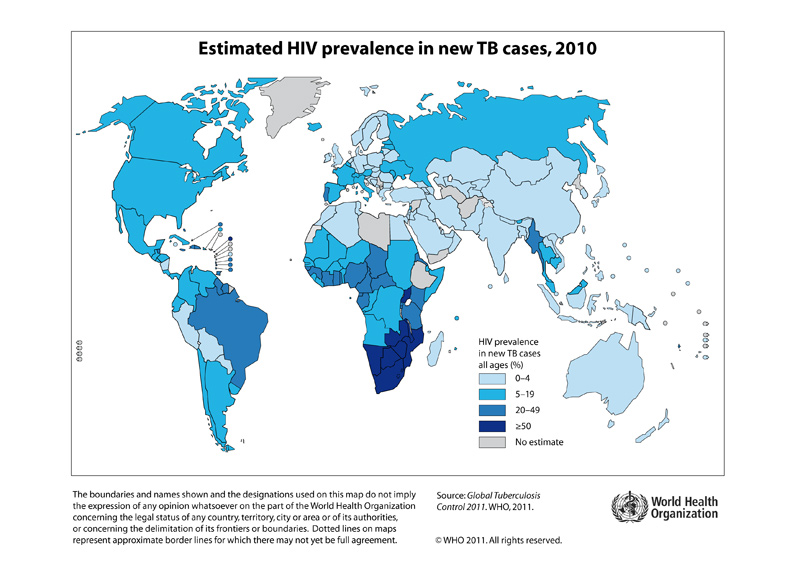 Drug Resistance
In 2009 the WHO estimated that there were 490,000 new cases of drug-resistant tuberculosis each year. In 2010 they estimated that number to be 650,000. Drug resistance is clearly on the rise.
Multidrug-resistant TB (MDR-TB) is caused by bacteria that are resistant to two of the key TB drugs – isoniazid and rifampicin. Extensively drug-resistant TB (XDR-TB) is caused by bacteria that are additionally resistant to fluoroquinolones or a second-line injectible drug. Drug resistance occurs naturally in some strains of the bacteria, but it is mostly amplified when treatment programs cannot provide consistent treatment, resulting in bacteria that develop resistance to new drugs. This intermittent treatment is due to inconsistent drug supplies. The challenge of supply is even greater for second- and third-line drugs that are needed to treat drug resistant disease.
New diagnostic tools allow doctors to identify drug-resistant cases much more quickly than in the past, but such tools are not accessible to everyone. When drug resistance is identified, the treatment is necessarily more complex than that of drug-susceptible TB; it takes much longer to complete treatment (eighteen months as compared to six months) and the drug regimen is significantly more expensive (50 to 200 times more costly, factoring in drug costs, labour and equipment). Only 16% of drug-resistant cases are receiving treatment for drug-resistant TB – some are treated as though they have drug-susceptible TB, a use of resources with little effect, and amplifying further drug resistance. The success rate of drug-resistant treatment programs is highly variable, reported as being between 25% and 82%.
Global Anti-TB Initiatives
In an effort to improve TB treatment and prevent the spread of the disease, the WHO and many other partners have supported the Directly Observed Treatment Short-course (DOTS) program. In addition to setting up systems of medical professionals that observe TB patients taking their medication – to ensure compliance and to help minimize cases of drug resistance, this program aims to increase detection rates, drug supplies, patient monitoring services, and the political commitment to treatment. Since 1995, 46 million people have been treated through the DOTS program.
DOTS is a key component of the Stop TB Strategy, a WHO initiative that seeks to address the needs of vulnerable populations, empower communities in the fight against tuberculosis, investigate drug resistance, and support research. Under such a strategy, the responsibility for treament failure is born by the program, not the patient.